Description
A MODEL TO LIFT EVERY LOAD
Description
Farmlift
J Wood & Son offer the complete range of Case Farmlift equipment and can be ordered as new build or check our yard for stock! Either way, we will be happy to advise and please check our website to see if we have a stock Farmlift that may suit your application.
Below are links to the Case website for you to understand more regarding just what is on offer: please speak to one of the J Wood agriculture team for our competitive pricing and recommendation.
6 MODELS MAX. REACH FROM 5.7 TO 9.1 M
Case designed and built the Farmlift telescopic loader range to meet the varied needs of today's agriculture – from the small farmer to large operations. Whatever your needs, there is a Farmlift for you. Whatever model you choose, you know you can count on superior operating comfort, short loading times and quick vehicle response.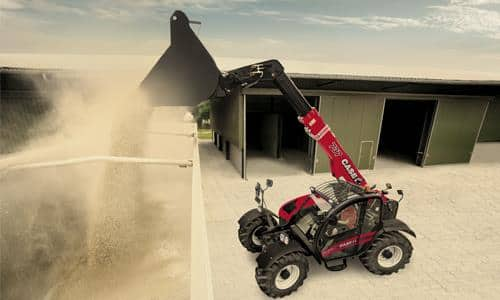 Case IH has always catered for the needs of almost every type of farm, and the Farmlift line of telescopic loaders continues that tradition. With a range of six models, with lift capacities from 2,500 to 4,200kg and a maximum lift height of 9.1m, the Farmlift line bears the same hallmarks that make every Case IH machine worthy of the name – ruggedness, reliability and comfort, coupled with power, speed and agility. There's plenty of Farmlift models to fit your needs.
DESIGNED FOR YOUR COMFORT

Work in the best condition with the premium operator cab and the ergonomic joystick for fast and safe operations. All Farmlift models are equipped with an expansive glass area for optimall all-around and upwards visibility. Ventilation is standard, while air conditioning is available as an option on all models.With the new 360° LED lighting package, turns night works to day.

ALL THE POWER YOU NEED

Farmlifts models have been engineered for the lowest possible fuel consumption at the highest levels of efficiency with proven and reliable components. Ranging from the 74 hp of the compact Farmlift 525, to 129 hp (145 hp maximum power) of the Farmlift 636 and 742, you always have the power you need for your handling work. All models feature a four-cylinder engine and meet the EURO STage IV emissions standards with the Common rail technology.

MAXIMUM TRACTION

Driveline components are perfectly matched to optimise power and efficiency. This is achieved on the Farmlift 525 with a hydrostatic transmission and variable delivery pump. Other models feature a 4×3 Powershift transmission (633, 737 & 935) and a 6×3 Autoshift transmission for the Farmlift 636 and 742. For easier and more comfortable operations, Powershuttle commands are now located directly on the joystick.
HYDRAULIC EFFICIENCY

Every model has the perfect hydraulic system to maximise its power and efficiency. A new CCLS 140l/min. pump is now available on 633, 737 and 935 models. Farmlift 636 and 742 models are fitted with a 140l/min variable piston pump with load sensing system. All hydraulic features are electro-proportionally and controlled by the integrated multifunction electronic joystick located on the end of the adjustable seat armrest.

HIGH SAFETY

The Farmlift models feature heavy-duty frames and a load status system that improve safety. Excellent stability and smooth boom operation are guaranteed by the combined effects of the Farmlift's hydraulic compensation ram and its tilt ram. Whatever the job at hand, excellent crowd and dump angles ensure that every load is a full one and discharge is full and fast.

THE RIGHT SIZE FOR EVERY JOB

Compact dimensions is one of the key design criteria of the Farmlift. All models have a low centre of gravity for optimal traction and an exceptional agility. Selectable three-way steering features makes work easier even in the most challenging surroundings. While they have a 3m wheelbase for excellent stability, Farmlift 633, 636, 737, 742 and 935 models offer a tight outside turning radius of 3.91m.
EASY SERVICING

The Farmlift telescopic loader is designed and built to work long days. To ensure its maximum reliability, we made servicing easy and quick. Long service intervals of 500 hours between oil changes keeping you working for longer.
SAFEGUARD WARRANTY
2 YEARS MANUFACTURER'S WARRANTY INCLUDED
Get 2 years of warranty on this product! The SAFEGUARD WARRANTY is an extension of the Base Warranty (1+1 year) to be protected from unexpected repair cost. Take advantage of our extended warranty program and work with full peace of mind.
With our extended warranty, you are sure that you are protected against additional costs. No matter if your machine is 1 or 2 years old, it will be covered like at the first day up to a maximum of 2,000 hours.
Want more information about this program? Click here and learn more about SAFEGUARD WARRANTY.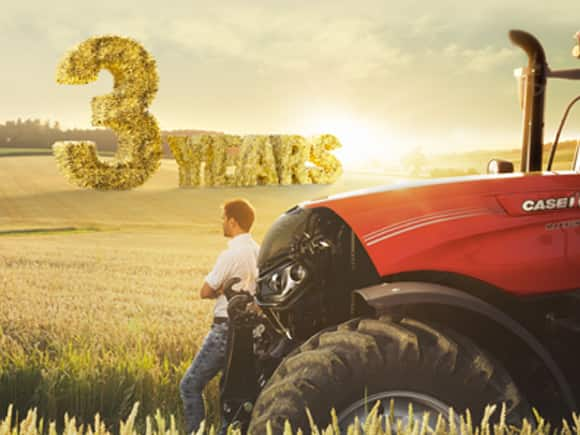 J Wood & Son are Case IH, Vicon, Kverneland, Claydon, Slurry Kat, Schaffer, Foster, Cherry, Richie (plus many more) dealers, based in Kirkbymoorside and are an independent company serving the Ryedale district of North Yorkshire. Complimenting Case IH we offer a range of new and pre-owned tractors and machinery along with the parts and service backup you would expect. Our small friendly team strive each day to provide first class service to customers old and new if you don't see what you are looking for please don't hesitate to contact us, we look forward to being of service to you in the very near future.